The 2 new Special Items that can be used to improve equipment,the one is "
upgrade
",which upgrade parameter value directly;the other is "
reshuffle
",you can use it to change the parameter type. Both are available in battle drops and on auctions.
这次新添加了两个道具,一个是直接强化属性的,一个是洗点随机生成新属性的。当然,一个道具只修改一条属性。获取方式为战斗掉落和系统商人在拍卖投放。

Ⅰ、
Instructions:
Ⅰ、
道具说明:

①.
Upgrade
:one item can improve one of the two parameter value (Under 90%). Like the image.For example:for Q6,7.8/15.6 are the limits. (
Namir_Pl
Is there any problem with my understanding here? )
So,the top equipment is still valuable
关于强化
:利用该道具,你可以直接为你装备其中一项属性进行强化,至于强化程度,有一点是可以肯定的,那就是越垃圾的装备强化收益越多。同时,只能强化总属性在极限90%以下的装备(例如Q6免伤属性范围是6~8%,中间的差值是2,则最高能强化1.8的属性,也就是7.8(暴击等12~16,极限就是15.6,那么神装依然是神装))
②
Reshuffle
:one item can change one of the two parameter type(Random).
关于洗点
:利用该道具,你可以为你装备其中一项属性进行刷新,但是新属性(包括数值)是随机生成的。考虑到这个道具的随机性以及价格,故用此道具来刷新极品属性目前并不可取。

Ⅱ、
How to use
:
Ⅱ、
使用方法
:
①. Go to storage page
去仓库页面
②. Hover over equipment (to display tool-tip)
鼠标移到装备上(如果穿在身上)
③. Click the link (#id) after the equipment name
点装备ID(蓝色那个)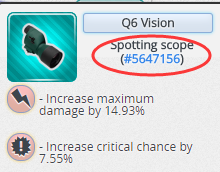 ④. On equipment page you should see parameters
根据提示进行强化/洗点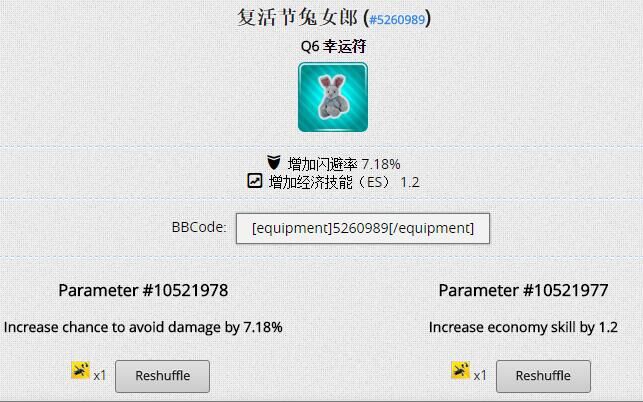 (Both are the same, except "shuffle" becomes "upgrade")
(两个界面都一样,只不过"shuffle"变成了"upgrade")
If you have the items to upgrade equipments you will see buttons to reshuffle/upgrade parameter under each parameter.
Make sure you are the owner (only owners can do that).
没有强化/洗点的道具就看不到选项哦

Ⅳ、
price
Ⅳ、
价格
①."upgrade" about the price of 600g, the beginning of a number of the highest price even reached 980G
目前强化道具的价格在600G左右,最开始的一批价格最高甚至达到了980G
②."shuffle" about the price of 200g, it is more cost - effective (but only with a more cost-effective on the rabbit

)
洗点道具的价格在200g左右,就比较合算了(然而只有用在兔子上比较合算,笑)如果以后这个道具足够便宜的话,倒是可以用来刷新属性呢,而且新属性没有90%的限制。
Previous article:
[Free!]Some free gifts.一些可以免费领取的游戏。
(9 months ago)
Next article:
[不要钱]02/12~19免费领英雄无敌7[Chinese IP needed]
(7 months ago)